Jedną z istotnych zmian w Enterprise Architect w stosunku do wersji 9.x jest zmiana menu. Na początku wydawało mi się, że to zmiana kosmetyczna. Po kilku dniach używania zorientowałem się, że odszukanie funkcji lub okna w Enterprise Architect 10, gdy nie znam skrótu klawiaturowego zaczyna być dość kłopotliwe.
Myślę, że ta modyfikacja sprawiła problem wielu osobom. Na stronie społeczności Enterprise Architect Dietmar Steinpichler (link do oryginalnego tekstu) opublikował opis zmian w menu Enterprise Architect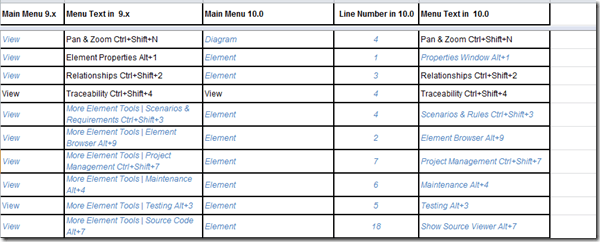 Pozwoliłem sobie skopiować ten plik na mój serwer bo to dość cenny opis zmian w menu Enterprise Architect, a pliki w necie mają skłonność do znikania.
Powodzenia w przyswajaniu nowego menu. Ja już mam to za sobą

.
Reklama