Swoją wiedzą i kompetencjami dzielę się nie tylko na szkoleniach ale także na studiach podyplomowych. Od kilku lat jestem związany ze Politechniką Warszawską, gdzie prowadzę kilkanaście godzin zajęć z analizy biznesowej i zarządzania wymaganiami. Po ostatnim wykładzie/warsztatach obiecałem swoim studentom, że polecę kilka pozycji związanych z tematem.
Oto one:
Warsztaty wymagań
Autor: Ellen Gottesdiener
Tytuł oryginału: Requirements by Collaboration: Workshops for Defining Needs
A Guide to the Business Analysis Body of Knowledge (BABOK®) 2.0
Autor: International Institute of Business Analysis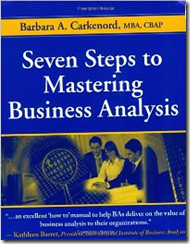 Seven Steps to Mastering Business Analysis
Autor: Barbara A. Carkenord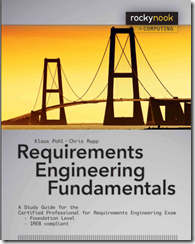 Requirements Engineering Fundamentals
Autor: Klaus Pohl i Chris Rupp
Nie podaję linków do stron na których można kupić te pozycje gdyż "wujek google" na pewno doprowadzi zainteresowanych we właściwe miejsca

.
Reklama