Diagram pakietów (ang. package diagram) jest strukturalnym diagramem, który prezentuje pakiety i relacje zachodzące pomiędzy nimi. Diagram pakietów służy do modelowania agregatów bytów, jakimi są pakiety. Diagramy pakietów pozwalają na modelowanie systemu na wysokim stopniu abstrakcji, gdyż pakiety reprezentują ogromną liczbę klas, interfejsów, diagramów i innych bytów – pozwala to wyeksponować tylko zasadnicze funkcje systemu.
Diagram pakietów – notacja i semantyka
Pakiet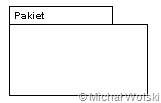 Pakiet (ang. package) jest uniwersalnym mechanizmem służącym do organizowania elementów w grupy. Pakiet grupuje elementy modelu i diagramy.
Pakiet stanowi obszar nazw, co pozwala na oznaczenie przynależności (właściciela) bytu, a w konsekwencji umożliwia lepsze i skuteczniejsze zarządzanie elementami systemu. W związku z tym byty należące do tego samego pakietu muszą mieć unikatowe nazwy. Jednocześnie dopuszcza się, by byty przynależące do różnych pakietów miały tę samą nazwę. Pakiety, jako agregaty systemu, umożliwiają podział systemu na grupy, w celu lepszego zrozumienia złożoności systemu. W skomplikowanych systemach pakiety mogą zwierać w sobie inne pakiety.
Należy zauważyć, że diagram jest typem pakietu.
Pakiety to jeden z najczęściej stosowanych elementów, dzięki któremu staram się utrzymać porządek w repozytorium projektu.
Pozostałe diagramy UML: